A Volunteer for Israel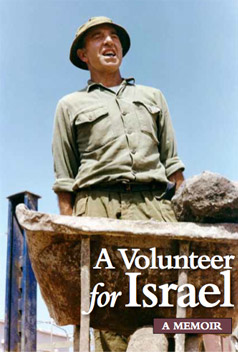 In his latest book, A Volunteer for Israel, Daniel Wolfe describes his humorous and poignant experiences as a 60 year old volunteer in the Volunteers for Israel Program.
The book traces his adventures from the time he arrived at Ben Gurion Airport in 1983 to be greeted by General Aharon Davidi, intrepid officer, paratrooper, hero of the Sinai Campaign and founder of the Volunteers for Israel.
Wolfe was sent for one month to a camp in the Golan Heights. The experience motivated him to volunteer seven more times including the year of Saddam's SCUDS. Finally, he ended with a farewell at Haifa Naval Base.
The humor, the camaraderie and seeing how the shards of the Holocaust united to create a foremost democracy and a world leader in scientific research motivated him for his returns. The book, with many photographs, is replete with humor in describing his encounters with the soldiers and Israeli residents whom he met on weekends off base.
"The Volunteers for Israel program began in 1982, during the first war with Lebanon. Civilian replacements were needed for thousands of reservists who were called to duty just as Israel's harvest season began. Israeli General Aharon Davidi sent emissaries to the United States to enlist volunteers for harvesting crops and save the economy. More than 600 volunteers responded immediately.
Today, the VFI programs maintain that pioneering spirit. Since 1982, more than 30,000 Americans have signed on to civilian work on Israeli Defense Forces bases or to assist in nursing and retirement homes."1
Wolfe is also the author of: Seabury Place: A Bronx Memoir, Cold Ground's Been My Bed: A Korean War Memoir and Coming Home: A Soldier Returns Korea
A Korean War veteran, Wolfe was awarded The Bronze Star for Valor on the night his company was ambushed during a raid on Hill 117.
His wife Sheila, was a member of the original Board of The Volunteers for Israel (NYC) and former Director of Fundraising for the American Friends of Assaf Harofeh Hospital.
A Volunteer for Israel is available for $10.00 plus postage by contacting Wolfe by email: mailto:danielwolfebooks@yahoo.com.