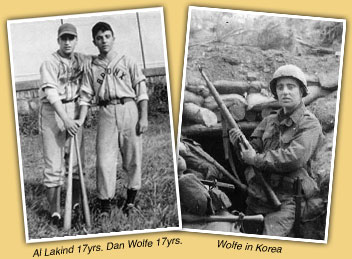 Daniel Wolfe was born in the Bronx on April 16, 1930, when the country was beset with the Great Depression. His father, a tailor, earned metaphorical combat ribbons with oak leaf clusters in a battle for economic survival. Making just enough effort to pass his classes in elementary and high school, Wolfe graduated in 1948. College was not an option; earning income was.

After stints in the Garment District of Manhattan and as a switch tender/brakeman for the New York Central Railroad, Dan was drafted into the Korean War.

For carrying his wounded sergeant, Massengale, back to safety under enemy fire when the Chinese ambushed his company, Wolfe was awarded the Bronze Star with a V for valor.

Dan returned home with the job skills he had learned in the army and no way to apply these talents to civilian life. When he learned about the GI Bill's funding for vets to go to college, he took government aptitude exams and qualified. He enrolled at the College of the City of New York (CCNY) in 1954, graduated in 1958 as a Biology-Education major, and began teaching at Jane Addams High School in the Bronx.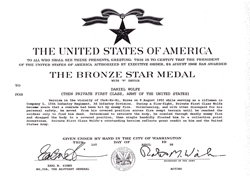 Daniel Wolfe was awarded a bronze star medal for heroism in the vicinity of Chok-Ko-Ri Korea on the 8th of August, 1952.

Click here to view a larger image of the award.

Click here to read two articles about why he received the award more than forty-five years late.


A young woman newly hired as the school librarian caught his eye. After a few weeks of dating, she convinced him that life with her was the only option. They were married in 1962 and raised three children in Rockland County, New York.

Wolfe and his wife retired in 1995 and then moved to Boca Raton, Florida. Shortly after, he received a phone call from his former sergeant, Flaherty, whom he had last seen 45 years before, lying severely wounded on a litter.

In Korea, Wolfe had helped the guys in his company write love letters to their sweethearts and wives. Now Sergeant Flaherty asked him to write a newsletter reconnecting the veterans of the Third Division, 15th Regiment, Company L. In 1998, thirty men from Company L and their wives came to a reunion at Fort Stewart, Georgia. The men recollected the fun, the fear, the patrols, the raids, and the tragic casualties. This resurrected the dormant terror of Korea.

Wolfe had never spoken about his war experience before he began writing about it in a creative writing class at Duke University in North Carolina. He continued to study writing at Sarah Lawrence College in Bronxville, New York and and the Hudson Valley Writers Center in Sleepy Hollow, New York.

His first memoir, Cold Ground's Been My Bed: A Korean War Memoir, recounts his humorous, tragic, mundane, frustrating, and shocking experiences in the army and in combat.

He went on to write Seabury Place: A Bronx Memoir, which recalls with honesty and humor his coming of age from the Great Depression through the World War II era and into the 1950s.

Completing the trilogy is his memoir Coming Home: A Soldier Returns from Korea. It combines an account of his reentry into civilian life and stories about his parents, teachers, students, friends, relatives, and other Runyonesque characters.

Wolfe's story "The Running Board," describing a child's experience of the Hindenburg's flight over New York City just before it crashed, was recorded for the NPR radio program "This American Life." Other Wolfe stories have been published in The Urban Hiker, a literary magazine in Durham, NC.

He keeps track of the survivors of Company L as president of the W. A. Sidney Outpost of the Third Division and publishes a newsletter for them, full of reminiscences, corny GI humor, and reports of knee replacements, bypass surgery, and visits to VA hospitals.Wolfe looks forward to the next reunion.

Ever since the birth of Israel, Wolfe yearned to see what the shards from the Holocaust and their Zionist compatriots created. In 1984 when a call went out for volunteers, Wolfe volunteered eight times to replace a reservist at an army maintenance base. From these experiences has emerged his latest book, A Volunteer For Israel. Wolfe lives with his wife in Westchester County, NY.