Seabury Place; A Bronx Memoir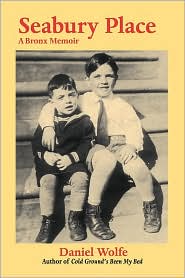 In Seabury Place; A Bronx Memoir, Daniel Wolfe, brings back to life in telling detail his childhood in the Bronx of the 1930s and '40s . His memoir reveals both the love and frugality that brought families through the Great Depression, the caustic tongues of adults and street kids that ridiculed any flaw in a face, clothing, physique, or manner of speaking.

Wolfe describes a time when the streets of New York were an asphalt kingdom for kids from cramped tenements. In vivid and hilarious episodes, he paints a world of hard work but still full of promise for families of Jewish immigrants from the shtetls of Eastern Europe.

Wolfe's street kingdom was populated by characters whose names sound like a casting call for Guys and Dolls: Gravel Gertie, the Creep, Lunchee, the Sheriff, Pimple Ear, Steve the Greek, the I Cash Clothes Man, and the infamous Jake the Pickle Man. Pleasures were simple for this motley crew: a baked sweet potato from a street vendor's cart, a raucous game of stickball, a chocolate Mello-Roll from the candy store, a hand-me-down baseball mitt—the hard-won trophies of childhood and freedom. Not even the ominous shadow of the Hindenburg passing overhead could dampen the rascals' spirits for long. There they are, holding court on the stoop or the running board of a rare car, climbing up a fire escape to swipe a broom for a stickball bat, running to fetch a neighbor to the candy store for a telephone call.

While the street was the realm of kids' games, the heart and soul of Seabury Place for Dan was the two-bedroom flat that his parents, Morris and Rose, made home, despite its leaky icebox and hissing radiator. The author's relationship with these two hard-working, indomitable Forces for Good illuminates the memoir. In a day when too often parents are the butt of jokes and ridicule, Wolfe's refreshingly loving and comic sketches of his remarkable Ma and Pa make the heart glad.

Like a long talk with old friends that lasts late into the night, Seabury Place is an experience that readers won't want to end.

---
Purchase the book from...
Amazon | Barnes & Noble | 1-800-AUTHORS