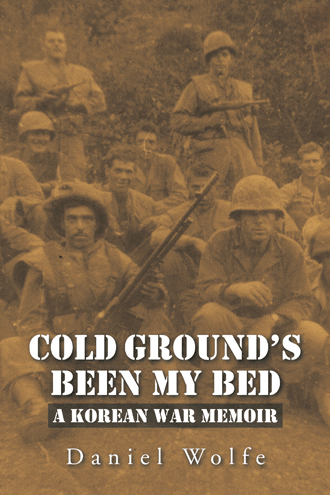 Cold Ground Reviews
Cold Ground's Been My Bed, by Daniel Wolfe, is a Korean War memoir. In paperback format, it contains 321 pages and is available at www.iuniverse.com for $22.95 plus shipping. The Internet also lists availability through Amazon.com and Barnes and Noble book stores.
Wolfe's memoir covers his experiences while serving with Company L, 15th Infantry Regiment, 3rd Infantry Division, during the Korean War. His is a wonderful story, not only of his experiences and those of his fellow Soldiers in action but also of the antics that took place while Company L was in reserve. They did what young men do in war - follow orders, even when ill-advised, and use humor to reduce stress, and to feel alive.
One sequence in the book describes the battle and the circumstances under which fellow soldiers were wounded or killed in action. That battle prompted the poem Wolfe write which appeared in the August Watch, p. 29. "Korea: August 8, 1952." The poem, and excerpts from his book, show how Dan dried to alleviate his parents' concern by telling them he was in the rear - not in combat. At the end of another battle sequence, Wayne Caton, a medic and everyone's buddy, was M.I.A. Later, Caton was declared K.I.A. Wolfe followed up by contacting members of Caton's family in an effort to help console them and let them know that Caton was much loved by his fellow Soldiers.
Years after the war, members of the L Company began meeting for reunions. Wolfe traces the lives of these men, following the war, through the intervening years, and into their retirements.
The book is a wonderful read. It has every ingredient a war memoir should have and much more. Wolfe ends his story with an untitled poem by Grantland Rice, which reveals the truth about war and also provides a concise summary of his book, Cold Ground's Been My Bed.
All wars are planned by old men
In council rooms apart,
Who call for greater armament
And map the battle chart.

But out along the shattered field
Where golden dreams turn gray,
How very young the faces were
Where all the dead men lay.

Portly and solemn in their pride,
The elders cast their vote
For this or that or something else,
That sounds the martial note.

But where their sightless eyes stare out
Beyond life's vanished toys,
I've noticed nearly all the dead
Were hardly more than boys.
--Society of the Third Infantry Division; October, 2010
---
The Korean War memoir is only a backdrop for this story of a young Jewish man, raised in an apartment in the Bronx, who is thrust into a larger world. Wolfe, with keen perception and humorous insights, shows us a twenty-two-year old who thought people from Brooklyn and Long Island had foreign accents and then finds himself in the company of an American Indian from Oklahoma and Southerners with incomprehensible drawls. He describes the "hole in the ground called a bunker" on the MLR (front line), the place he will call home for weeks on end. He shows us the hopes and fears of all young men, the letter-writing to girls back home, the fooling around.
Wolfe's endless questions help us to see the young men in the war. "Will I be out there, part of that noise?" "Could I handle this?" "What the hell kind of operation is this?" "Where's Wayne?" He portrays scenes where he felt the military had made poor decisions. For example, when the starving South Koreans raided the garbage dump for food, the Army ordered the dump to be soaked with gasoline and set on fire subsequently, instead of providing the food scraps for the Koreans. And he leaves us with haunting doubts on the validity of wars where "I've noticed nearly all the dead were hardly more than boys."
This is not a somber, heart-wrenching read. You will chuckle frequently. And at the end, you will see the "boys" of Wolfe's company fifty years later, ordinary people thrust into extraordinary circumstances, most of whom performed nobly and with compassion. They were sent to do a job. They did it as best they could and then went home to go on with their lives. You will laugh and cry with them. Admire them for their honestly and courage. And you will follow Wolfe on his quest to find out what happened to Wayne.

But if you missed the Korean conflict (The Forgotten War), Dan Wolfe will take you back as a young man from the Bronx suddenly thrust into battle. In Wolfe's hands the obligatory basic training sequence is fresh and often hilarious. Battle descriptions are those of a foot-soldier, up front and personal.
Readers will welcome the dozens of photographs of Wolfe's buddies from his unit, both during and after the war. This is a very personal book, not the big picture. As such it has a compeling vitality, and the most real sense of "you are there" .
---
This is a gripping memoir of a draftee as he is plucked from the Bronx, NY, goes through basic training and is then shipped toward the raging war in Korea. This is a book that would appeal to many readers, as Wolfe is a great storyteller who does an excellent job in conveying the tragedy and humor of life in an infantry platoon. The many questions and thoughts that go through the mind of a young man caught up in a senseless war halfway across the world are revealed in this book.
---
Seabury Place Reviews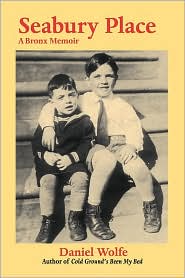 Life 60+ years ago was a lot different than today. If you want to enjoy the experience of that time you must read Seabury Place. The reader is taken back to the family, the streets, the schools in an interesting and humerous way.

I graduated Hermann Ridder, Jr. Hs about the same time as Mr. Wolfe. I could not get over his uncanny memory of the good old days in the Bronx. The book is very, very funny and I have told all my friends from the old days about it.

I was carried back to the magic of my days in the Bronx during the Great Depression. Although money was a rare commodity, laughs were not. Those days are hilariously described in Seabury Place: A Bronx memoir.

Daniel Wolfe humorously describes how The I Cash Clothes Man, The Lineman, The Sweet Potato Man, The Iceman brought music to the streets of the East Bronx. I did not want to put the book down as I laughed myself through the characters in his neighborhood, his adventures as a bus boy in the Catskills, his Moonlight Ride up the Hudson.
---
Coming Home Reviews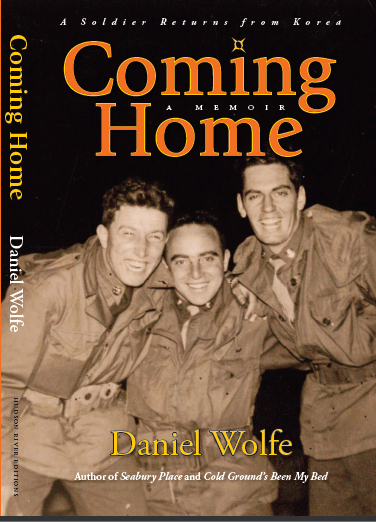 I loved Wolfe's depiction of living in Florida after his retirement and subsequent move north. His friends and the characters he's met along the way are colorful and very real. He writes in a very clear and descriptive style and he has a great sense of humor.

I just read Coming Home: A Soldier Returns From Korea as a sequel to Dan Wolfe's first book, Cold Ground's Been My Bed. I especially enjoyed his humorous depiction of his friends, students, teachers, and the characters he met throughout his teaching career and his life thereafter. Don't miss it!!

My husband (himself a veteran) and I have read all of Dan's books, including his latest about returning to the real world after combat. Daniel has an honest voice and his storytelling engages the reader. His humanity is apparent in all his writings.

Danny has once again written a poignant reminder of how an individual's war doesn't necessarily end with a cessation of gunfire.
The trials of returning home to a different life and reality is evident in almost every page of Danny's third book detailing his inner growth before, during and after the Korean War. Sometimes hilarious and sometimes sad, Danny's vivid descriptions of life on the streets in the Bronx and in his humble home make the book come alive. One can't help laughing out loud at his Mom's very down-to-earth logic.
Mixing in youthful antics, marriage, loss of a child and Danny's intimate thoughts, this book never failed to make me want to continue reading.
More, Danny, more!